Instructions on how to add Facebook real estate listings to your Facebook Page
You'll need to have a Facebook Business Page that is tied to your personal Facebook account before you can integrate Facebook real estate listings solutions to the Facebook App. If you haven't already created a Facebook Business Page for your real estate business, you can do so by visiting Facebook's Create a Page tool. You can have as many Facebook Business Pages as you wish tied to your account, and you can install the real estate Facebook Apps on any number of those pages.
NOTE: Recent changes to Facebook restrict the installation of custom tab apps like Featured Listings and Property Search to pages with 2000 or more fans. 
Facebook Real Estate Listings Installation
Go to your IDX Control Panel and select SETUP at the top menu, then select Facebook under Mobile/Social Setup.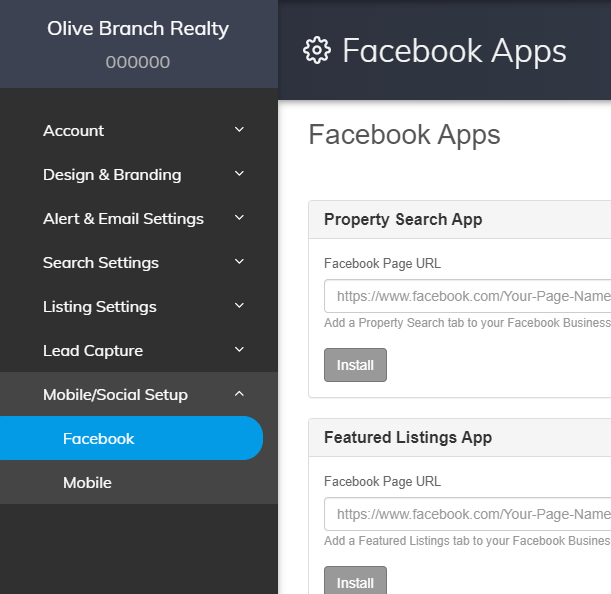 Property Search / Featured Listings
On the SETUP > Facebook page you will see two different options for tabs that can be added to your business page. Enter the URL of your Facebook Business Page and click Install. This will take you to Facebook.com. Further instructions are available in the next step.
Results & Detail Settings (Standard & e-Man Accounts)
You will also see a drop-down menu that allows you to choose where users are taken after acting on your Facebook app.
If you choose 

Open results & property details in Facebook

, your users will never be taken to your website outside of your Facebook page.

If you choose 

Open results & property details on website

, your users will be taken out of your Facebook page and into your real estate website.
After adding the URL of your Business Page and clicking Install on the App of your choice (Property Search or Featured Listings), you will be taken to your personal Facebook account. Select a page in the drop-down menu, then click Add to Page.
If you do not have any pages in the drop-down menu, you have not created a page yet or you do not have administrator privileges for the page you wish to use. You can create a new page by clicking Create New Page.
Once you have installed the Property Search and Featured Properties Apps, links will be added to the header of your page. To move these into prime position, click the "More" option and then "Manage Tabs." From there you can drag the Search & Featured links up below the About link.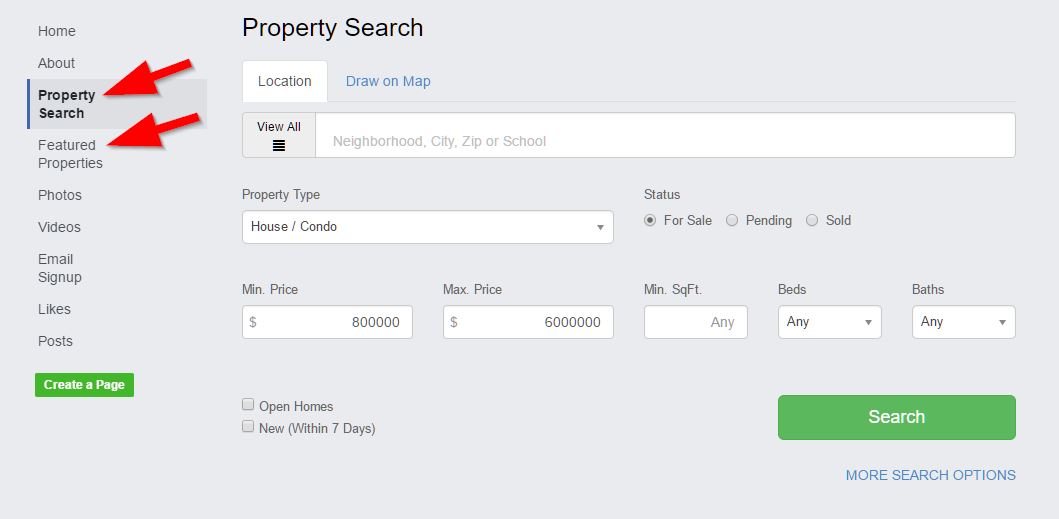 "Property Search" and "Featured Properties" will take users to your new IDX pages on Facebook. To read more about the benefits of adding Facebook real estate listings to your business page click here.
Share.